Easy German Short Stories for Beginners
A fresh, authentic look at German culture and life. Join Dino on his journey through Germany (and beyond) and learn the language effortlessly along the way.
👉

Learn German With Dino

Dino lernt Deutsch is a German short story series for beginners starting at the A1/A2 level. Using simplified sentences and a basic vocabulary you can build upon, this story series for beginners is carefully crafted to help immerse yourself in an authentic German learning experience.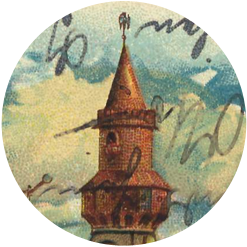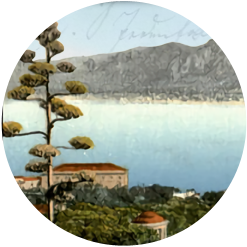 📌

Your German Adventure Starts Here

Meet Dino, a young man from Sicily traveling through German cities (and beyond). Follow his adventures as he learns about the local culture, customs and language. Get a grasp of new words and expressions with our detailed German-English dictionary after every chapter and test your comprehension with simple quizzes.
🔥

Fun and effective

Learning German with stories is a great way to increase your vocabulary, reading skills and gain grammar awareness. Dino lernt Deutsch is written in a simple yet engaging style that will hold your interest as you learn how to make your first steps with the language.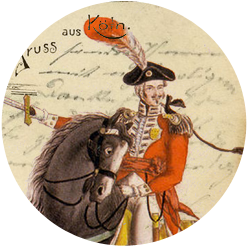 🔎 Quick Start Guide

What Level Are These Books?
This series is designed for beginner German learners starting around the A1/2 level. If you can 'understand and use familiar everyday expressions and very basic phrases' this series will slowly ease you into reading and understanding connected sentences and enjoy simple but fun storytelling.
Do They Gradually Get More Difficult?
Yes. You'll find that the level gradually increases, building up vocabulary and frequently used expressions from various areas of relevance (e.g. personal and family information, shopping, cooking, employment, culture) which are successively utilized to form increasingly complex conversation topics, both concrete and abstract (gently leading up to ~B1/2).
In Which Formats Are The Books?
We offer ebook, paperback and audio formats on Amazon, Apple Books, Book Depository, Barnes & Noble, Kobo, Audible or wherever you prefer to get your books and audiobooks. On this website you can also download each volume in PDF, EPUB, MOBI and MP3 format (see
bundles
).
Which Book Should I Read First?
For most learners we'd recommend to start with the first book
Café in Berlin
and slowly work yourself up from there. However, if it seems too easy, please feel free to skip ahead a few episodes and join the story at a point that suits your individual learning level. While the episodes
are
loosely connected in their overall narrative, each book tells a self-contained story.
What Readers Say
Complete Series Bundle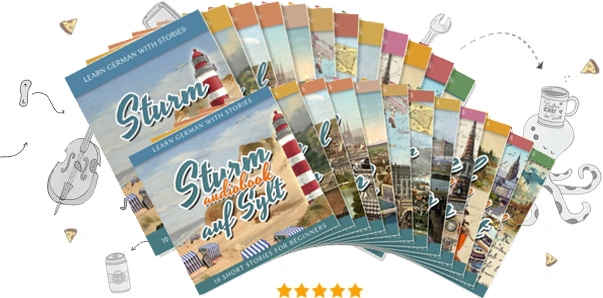 12 ebooks (EPUB, PDF, MOBI)
12 audiobooks (MP3 audio)
+ Flashcards (Anki/Quizlet) & more
Sale Price : $84.99
Regular Price: $119.70


Make your first steps reading German short stories by following the adventures of Dino, a young man from Sicily traveling through various German cities and beyond. Learn about German culture, local quirks and customs, and learn the language effortlessly along the way.
1

Tired of boring German textbooks and dumbed-down practice sentences that don't make sense? Step into the shoes of Dino, explore Berlin and learn German–the way it's actually spoken–along the ...

$2.99