x
9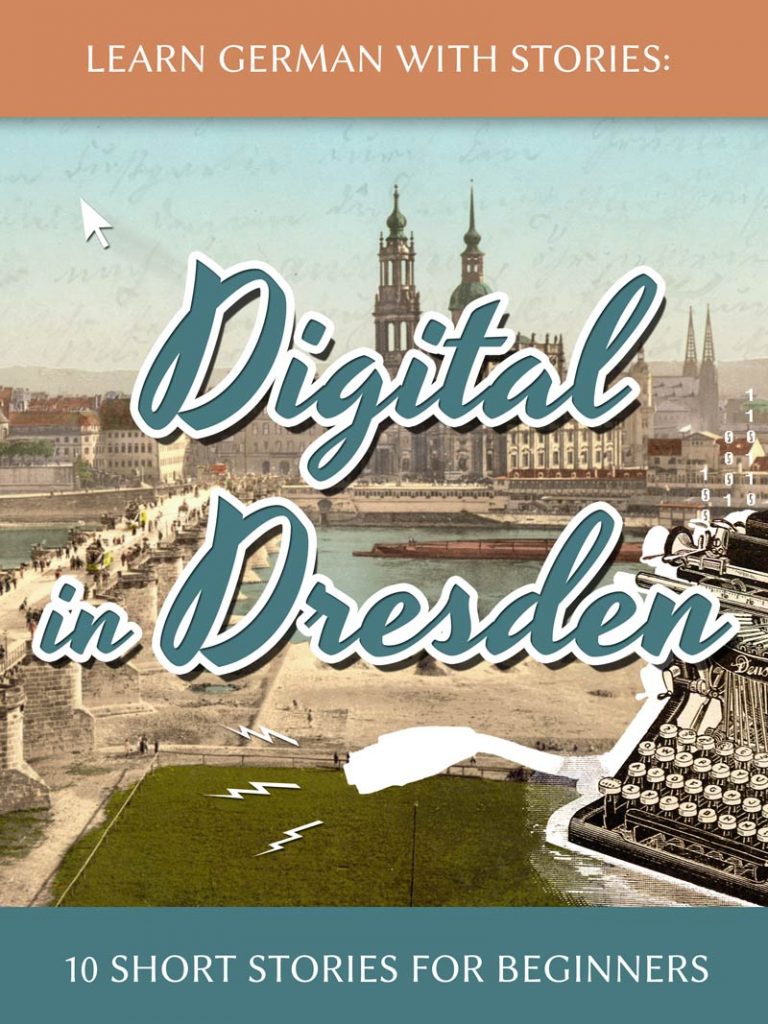 Free Preview
level: beginner
Learn German with Stories: Digital in Dresden – 10 Short Stories for Beginners
(Ebook Edition)
Take your German to the next level and boost your vocabulary, reading comprehension and grammar sense with episode 9 of the bestselling Dino lernt Deutsch German short story series for beginners!
In this sequel to Zurück in Zürich, Dino lands a promising new office job in Dresden with stable pay and promotion opportunities, but it's only so long before corporate implications force him to make a tough decision.
While the stunning architecture and baroque allure of the capital of the Free State of Saxony seem like a fairytale at first, Dino soon meets some of its disgruntled citizens and starts investigating the roots of their rage.
Explore Dresden, learn about local culture, history and improve your German effortlessly along the way!
Learning German Doesn't Have To Be A Chore
Just got started learning German? Memorized a few words but struggle with longer texts? We've all been there. This book is designed to help beginners make the leap from studying isolated words and phrases to reading (and enjoying!) naturally flowing German storytelling.
Using simplified sentence structures and a very basic vocabulary you can build upon, this set of 10 connected short stories is carefully crafted to allow even novice learners to fully immerse themselves in an authentic German language experience.
Each chapter comes with a complete German-English dictionary with special emphasis on collocative phrases (high frequency word combinations), short sentences and expressions designed for improved memorization.
By working with these building blocks instead of just single words, learners can boost their active usage of new material instantly and make the learning process more fluid and fun.
What You'll Find In This Book
10 chapters set in the city of Dresden
a balance between cozy vocabulary and introduction of new words
tons of phrases and expressions you will actually use in daily life
fun facts about Dresden, past and present
a detailed German-English dictionary after every chapter
enough support to make following along easy, without spoiling your own efforts
fun short quizzes to check your text-comprehension (including answers)
a relatable protagonist and other fun characters
hand-drawn illustrations by the author
the beginning of a grand German learning adventure …
Read, Learn & Collect Them All
Yes! That's right. This is the ninth episode of a whole series of exciting German short stories for beginners. Follow our protagonist to Frankfurt, Cologne, Hamburg, Vienna, Berlin and many other cities! Before you know it, you'll have travelled half of Europe and picked up more German than years' worth of expensive courses.
Learning German has never been more fun.
What You WON'T Find In This Book
parallel translations that may seem convenient but don't teach you anything
dull characters designed by academics and committees
interspersed English sentences that take you out of the reading flow
archaic German words and phrases nobody uses in real life
a jumble of unrelated places, people and events
wordy footnotes that only get in the way of immersion
condescending storytelling that insults your intelligence
a teaching approach which takes itself too seriously
Complete Series Bundle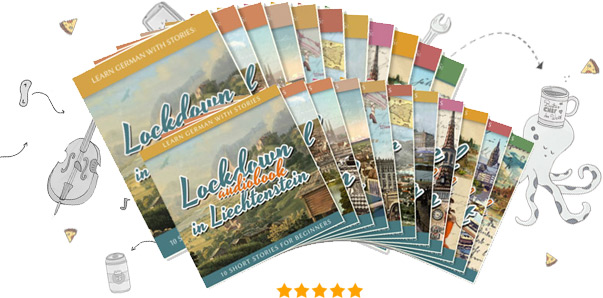 11 ebooks (EPUB, PDF, MOBI)
11 audiobooks (MP3 audio)
+ Flashcards (Anki/Quizlet) & more
Sale Price : $75.99
Regular Price: $111.72