x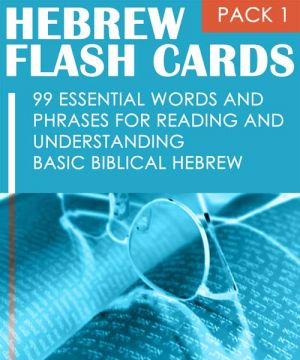 Hebrew Flash Cards: 99 Essential Words And Phrases For Reading And Understanding Basic Biblical Hebrew (PACK 1)
(Ebook Edition)
This e-publication is a collection of essential words and phrases from the Bible, optimized for learning quickly and having fun at the same time!
All Hebrew words are spelled out complete with nikud (diacritical signs for vowel pronunciation), phonetic transcription and an English translation.
The featured words and phrases all express core Biblical concepts and were selected by a native speaker and teacher based on common questions that generally arise for English speakers during the study of the original text.
What's in it, exactly?
This digital download contains the 99 Biblical Hebrew words and phrases in 4 different formats, so that whether you prefer creating your own flash card deck by printing them out, learning the words from your desktop computer or carry them with you on your Kindle, iPhone or mobile device, you get all these options for the price of one!
This independently produced e-publication includes:
PDF version for use on any computer or PDF compatible device:

203 pages
color-coded
optimized fonts for readability
"flip" cards by using arrow keys on keyboard
bookmarks for easy navigation

printable PDF-sheet for more tangibility:

print and glue your own set

MOBI format

upload to your Kindle and learn these words from anywhere by "flipping" the cards using the "next" & "previous" page buttons on the device.

EPUB version

don't own a Kindle but a Sony Reader or other epub-compatible e-reader? Upload this file to your device and use the next page, previous page buttons to learn.